💡 This function is an add-on. It is therefore only available if it is included in the scope of functions of your employee app.
First select the "Tasks" tile in your main menu. In the task overview, you can see all your own open and already completed tasks.
In the "Assigned" section you will find all tasks that you have assigned to other people or groups.
Create a new task
To create a new task, click on "+ Task" in the bottom right corner.


In the first step, you can enter a title

and a

description of your task.



You can also attach

files

to your task and assign a

due date

and

time

.
Tasks can be commented. You can enable or disable this during creation. Please note:
Everyone sees all comments of the task.
Everyone can delete their own comments. The creator of the task can delete all comments.
Assign task
Select either "Assign people" or "Assign channels". The option "Assign channels" is only available for channel owners.
A list of all users or channels is then displayed. Select the desired person(s) or channel(s) and click on "Done".
Then select the button "Create" at the top right. You have now successfully created your task.
Edit task
If you want to add or edit information afterward, click on the corresponding task and select "Edit". When you have completed your changes, press the "Save" button.

Duplicate tasks for recurring tasks
It is possible to duplicate tasks that have already been created if they are recurring tasks.
The duplicate function is displayed via the three-dot menu (desktop) or by holding down the task for a long time (mobile).
The content of the task to be duplicated is inserted into the editing screen for a new task.
Title, description and participant are taken over
The due date of the duplicated task is removed so that the new due date can be set directly, if required.
🚨 Note: For technical reasons, files are not transferred for the time being.

Check off task
When you have successfully completed your task, you can check it off in the task overview with one click.
To do this, click on the white circle in front of the respective task. A green tick will then appear, and your task will jump to the "Completed" area of the tasks.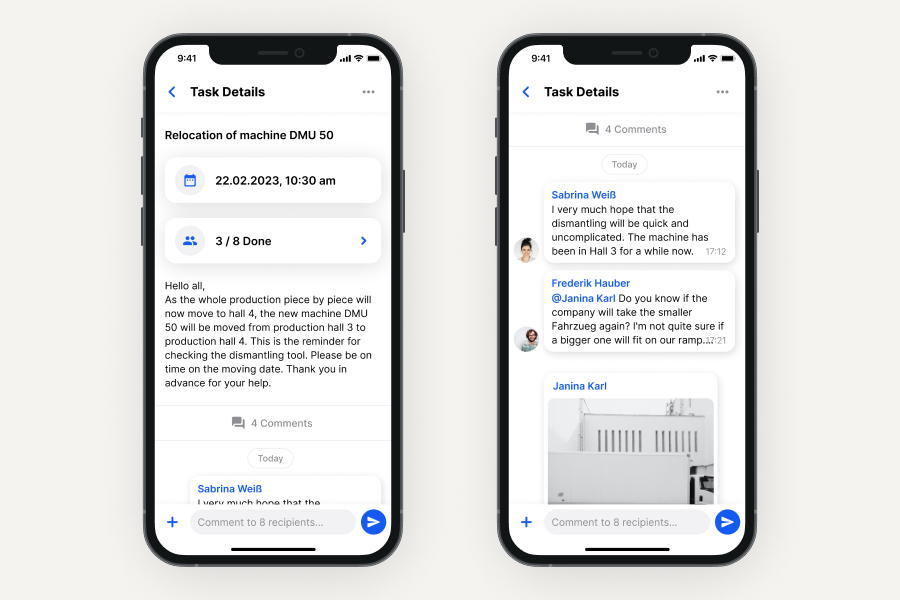 How can I check if a delegated task has already been completed?
In the task overview, click on the "Delegated" section and select the specific task.


In the task details you can see the due date of the task as well as all people or groups that have already completed the task and those who have not.


Here you also have the possibility to add new people

or

groups with the "+ Assign others" button or to delete existing people or groups via the three dots menu.